FIVE CHICKS

This week was my first meeting of "Five Chicks and a Fag"…a.k.a. "Five Chicks" for short…even though the number really isn't accurate anymore. A bunch of us met up at Liquid Kitty which is this little martini bar…the perfect venue to gather in a quiet AND DARK corner to have some good old-fashioned girl talk. I had such a great time, it's really such a wonderful group. Makes me miss my girls from back in D.C. even more. Anyway, as I said the place was practically dark so I really couldn't actually SEE anything that I was trying to take pictures of…but here are a few.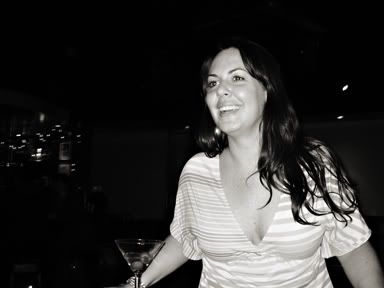 Shannon is the President of 5 Chicks


I actually knew Jim in college but I couldn't seem to get myself in the picture


I think this is how some of the ladies were feeling by the end of the night.
I knocked over two drinks trying to take this picture. I wish I could blame it on the alcohol but after just one drink, I think that still falls under the blanket of plain old clumsyness.
One Response to "FIVE CHICKS This week was my first meeting of "F…"